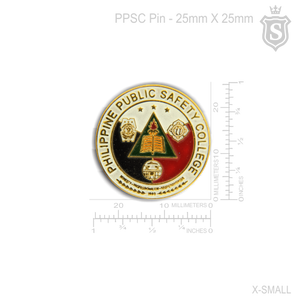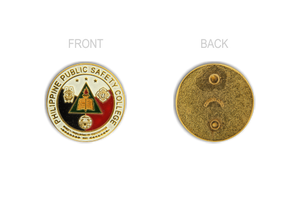 Suarez Arts Metal Technology, Inc.
Philippine Public Safety College (PPSC) Pin - PNP
Regular price
Sale price
₱350.00
Tax included.
---
Philippine Public Safety College (PPSC) Pin
Philippine Public Safety College (PPSC) 
The Philippine Public Safety College (PPSC) provides comprehensive education and training for all uniformed personnel of the PNP anchored in the principles of accountability and transparency. The promulgation of Republic Act 6975, otherwise known as the Department of the Interior and Local Government (DILG) Act of 1990, operationalized and initiated the call for a tangible reform in the country's public safety services particularly for the uniformed bureaus under DILG. The same Act actually complied with the constitutional mandate for a unified single national police force, which is civilian in character under the administration of the NAPOLCOM. Likewise, the same law upgraded the fire and jail services as new and separate bureaus under the DILG stewardship.
The implementation of Republic Act 6975 brought to fore the significance of the establishment of the PPSC. Section 66 of RA 6975 established and constituted the PPSC as the premier educational institution for the training, human resource development and continuing education of all personnel of the PNP.
The PPSC is the umbrella organization that oversees the various education and training programs offered by the following component training units: National Police College (NPC), Philippine National Police Academy (PNPA), Police National Training Institute (PNTI), and its 18 Regional Training Schools (RTS) nationwide, Fire National Training Institute (FNTI), Jail National Training Institute (JNTI) and the National Criminalistics Research and Training Institute (NCRTI). 
Give us your idea and we'll create your custom pin! We can guide you through the process and create something you can be proud of. We have a wide selection of designs to choose from. Fit for your recognition needs and budget. We cater to 50-piece and thousands-piece customized Pin requirements. Prices start the affordable 180-peso to the higher-end 450 -peso individually engraved pins. And with our offerings, at any price point, you are sure that you'll have the best value product for your budget.
SPECIFICATIONS
| | |
| --- | --- |
| Material/Finish: | Base Metal Material, Gold Plated |
| Overall Size: | 25 mm x 25mm (+-1.0 inch x 1.0inch) |
| Personalization Area: | Center Seal, Custom Logo |
| Thickness: | 1.4mm (1/16 inch) |
| Shape: | Round |
| Mounting: | Pin post and Clutch |
| Production Style: | Metal Embossing Machines Apply tons of pressure to the either molten-hot, or room temp material, to previously designed and prepared Metal Molds to mark the designs to the material. These pieces are Hand finished then electroplated Plated and painted to execute the client's design |
| | |
| --- | --- |
| Artwork: | Picture, Seal,  |
| Artwork File Types: | All types of files |
| Usage: | Philippine National Police Training Pin, Award Pin, Schooling, Graduate |
| Clients: | PNP, Police, LGU, Government, PPSC,PHILIPPINE PUBLIC SAFETY COLLEGE (PPSC) |
| Production Time: | 2 weeks days following proof approval for most orders. Proof will be received within 3 days business day. |
| Packaging: |  Clear Acetate Box and Shipping box |
| AKA | Collar Pin, Pin |
Email us for additional information on products found in this catalog,  for quantity price quotations or for special request items.