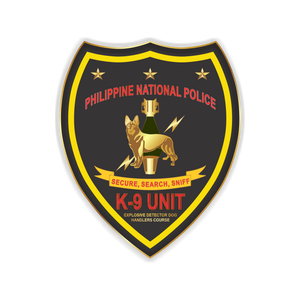 Suarez Arts Metal Technology, Inc.
K9 Unit Pin - PNP
Regular price
Sale price
₱350.00
Tax included.
---
K9 Unit Pin
What is a K9 officer?
A K9 officer is a law enforcement officer who handles and uses the skills of police dogs to assist in the execution of certain duties, including drug detection, cadaver location, pursuit and apprehension of suspects and explosive identification. A K9 officer performs the typical job duties of a police officer, with a trained dog to assist them in tasks requiring a more animalistic sense of location and speed.
These duties typically include:
Responding to emergency calls

Patrolling assigned areas of jurisdiction aided by a police dog

Issuing citations, making arrests

Securing crime scenes to avoid contamination of potential evidence

Locating and collecting evidence

Writing reports

Testifying in court as needed

Training and handling their K9
The dogs' training also includes a range of special duties, such as:
Pursuing and apprehending fleeing suspects

Detecting drugs, explosives, chemicals and other substances

Assisting in the location of missing people

Tracking fugitives

Locating cadavers and other biological evidence

Inspecting vehicles for evidence

Intercepting would-be attacks on an officer by criminals
K9 officers are often required to remain on-call 24-hours-a-day, ready to travel on little to no notice. They must maintain control of their dog at all times to avoid potential liabilities.
Local, state and federal branches of law enforcement, as well as the US military, employ K9 officers and their canine partners. Some specific agencies include:
Local and state police forces

Customs and Border Patrol

Drug Enforcement Agency

Transportation Security Administration
Branches of military use K9s for many singular specialized purposes:
Sentry:

 

The dog is tasked with warning handlers to unfamiliar presences, guarding gear, equipment and other supplies.
Scout or patrol:

 

These dogs are trained to work silently, detecting enemy forces, such as snipers or ambushes lying-in-wait.
Casualty:

 

Casualty dogs participate in search and rescue missions, using their training to locate and report casualties found in difficult locations.
Explosives detection:

 

As the name implies, these canines are trained to detect explosives hidden on a person, vehicle or location.
Narcotics detection:

 

This job has the same kinds of duties as EDs, but with drugs instead of explosives.
Each branch also has its own single-specialty dogs and dual-purpose dogs that perform patrol and detection work.
Canine breeds commonly used in law enforcement include:
German Shepherds

Rottweilers

Belgian Malinois'

Doberman Pinschers

Bloodhounds

Beagles
K9 officers are responsible for handling these dogs, including training, feeding and cleaning the dog's kennel. Much like a guide dog, each K9 dog is assigned to one to two specific handlers, with whom the dog shares a rare form of closeness and companionship that allows them to work in sync to stop, prevent and solve crimes.
Additional requirements of a K9 officer
A K9 officer will have to undergo regular police education and training, along with other certifications for dog handling and training:
Education:

 

To become a police officer, it is required to have earned at least a high school diploma or equivalent, however, many employers prefer a candidate to hold a Bachelor's Degree in Criminal Justice.
Training:

 

Successful completion of a 12- to 14-week police academy course plus two to three years of patrol experience are required to become eligible to apply for a position in the K-9 unit. The officer is then assigned a dog, and intensive training commences, in which the pair completes simulations and exercises focusing on agility and obedience, search, tracking and scouting, bite and protection work, suspect apprehension scenarios and tactical deployment exercises. The officer must successfully complete coursework relating to canine behavior and first aid techniques.
Certifications:

 

Organizations dedicated to training and working with canine police dogs offer certification programs, the completion of which can give you a competitive advantage in getting hired or promoted. Some organizations include The U.S. Police Canine Association, The National Narcotic Detector Dog Association, The North American Police Work Dog Association, The National Police Canine Association and more.
How to become a K9 officer
K9 officers typically begin their careers as police officers and are held to the same training requirements. They must successfully complete police academy training and up to two years of patrol experience before they're eligible to apply for a transfer to a specialty K9 unit. Patrol experience is important, allowing officers to gain real-life law enforcement experience and grow a professional network within the department.
To become a canine officer, you should follow these steps:
Complete the required education and experience to become qualified to become a police officer.

Search and apply for open positions in law enforcement.

Get fingerprinted, pass a comprehensive background investigation.

Complete testing: polygraph test, physical fitness tests, medical exams.

Attend job interviews and get hired as an officer.

Gain patrol experience for at least one or two years, learning as much as possible and growing a network of contacts.

Keep checking for open positions as a K9 officer, applying as positions open.

Interview for the job, get hired and begin training.

Receive your dog and complete team training until you and the dog can operate as a single unit.

Take care of your dog, continue ongoing training and solve crimes.
Skills needed to become a K9 officer
Success in this role tends to rely on your possession of the following skills:
Mental and physical stamina.

 

Officers and their K9 partners must remain alert through the duration of their shifts, often staying on their feet for long stretches of time.
Interpersonal skills.

 

Officers and K9s often present public demonstrations to increase awareness in the community about the K9 unit's contribution to mitigating crime in the area. These demonstrations may take place at schools, municipal facilities and other local venues.
Communication skills.

 

A K9 officer has the responsibility of communicating with not only their colleagues and the community at large, but they must maintain immaculate communication with their dog at all times. Additionally, K9 officers must be able to decipher subtle signals and changes in behavior from their canine partners.
Love and respect for animals.

 

To work with animals in any capacity, you must respect them, fulfill their needs and show compassion toward them. Your K9 dog is your partner, therefore, there will be times when you must be able to protect each other's life. Trust them and they'll trust you.
1.5"x1.25" emboss
Email us for additional information on products found in this catalog,  for quantity price quotations or for special request items.