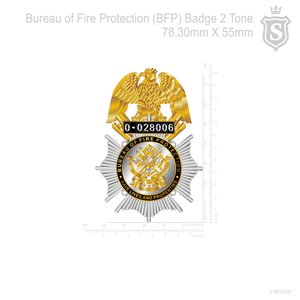 Suarez Arts Metal Technology, Inc.
Bureau of Fire Protection Badge - BFP
Regular price
Sale price
₱975.00
Tax included.
---
Bureau of Fire Protection (BFP) Badge
NOTE: BFP IDENTIFICATION is absolutely necessary when ordering this product.
The design features which includes the Malta Cross, black shield, BFP motto, the two branches of laurel leaves, the fire fighting tools and equipment, the image of Lapu-lapu and the National Flag, symbolize the true ideals of the Bureau of Fire Protection.
The Malta Cross (knighthood emblem) is the symbol of protection; a badge of honor, courage and pride; and a representation of the ideals of the Fire Service in saving lives and property and the extinguishment of destructive fires.
The Shield represents protection against harm and a firefighters' shield in combating fire and the black color represents the totality of the administration on fire protection in the country.
Protect and Serve – the BFP motto.
The Two Branches of Laurel Leaves signify the 14 regions when the BFP was recognized as a separate Bureau under the DILG.
The Badge also features the primary firefighting tools and equipment of the BFP embedded on each part of the cross.
The Image of Lapu-Lapu, who was the first Filipino who led the country in fighting the Spanish conquistadores, signifies bravery, leadership and heroism. The National Flag is also included in the background of Lapu-Lapu.
SPECIFICATIONS
| | |
| --- | --- |
| Material/Finish: | Copper |
| Overall Size: | 43mm x 60mm |
| Personalization Area: | Serial Number Banner |
| Thickness: | 1.5mm (1/16 inch) |
| Shape: | Shield with Eagle |
| Mounting: | Embossed, Two-Tone Gold and Silver Plating |
| Production Style: | Die-struck Brass material, Hand finished and electroplated. Durable brass finding. Fully enamalled colors and soldered banners and seals |
| | |
| --- | --- |
| Artwork: | |
| Artwork File Types: | |
| Usage: | Field Type a Uniform |
| Clients: | Bureau of Fire Protection Officers |
| Production Time: | 4 to 5 days + Shipping |
| Packaging: | Plastic Badge compact |
| Aka: | Badge |
Email us for additional information on products found in this catalog,  for quantity price quotations or for special request items.